TINKY WINKY ARRESTED!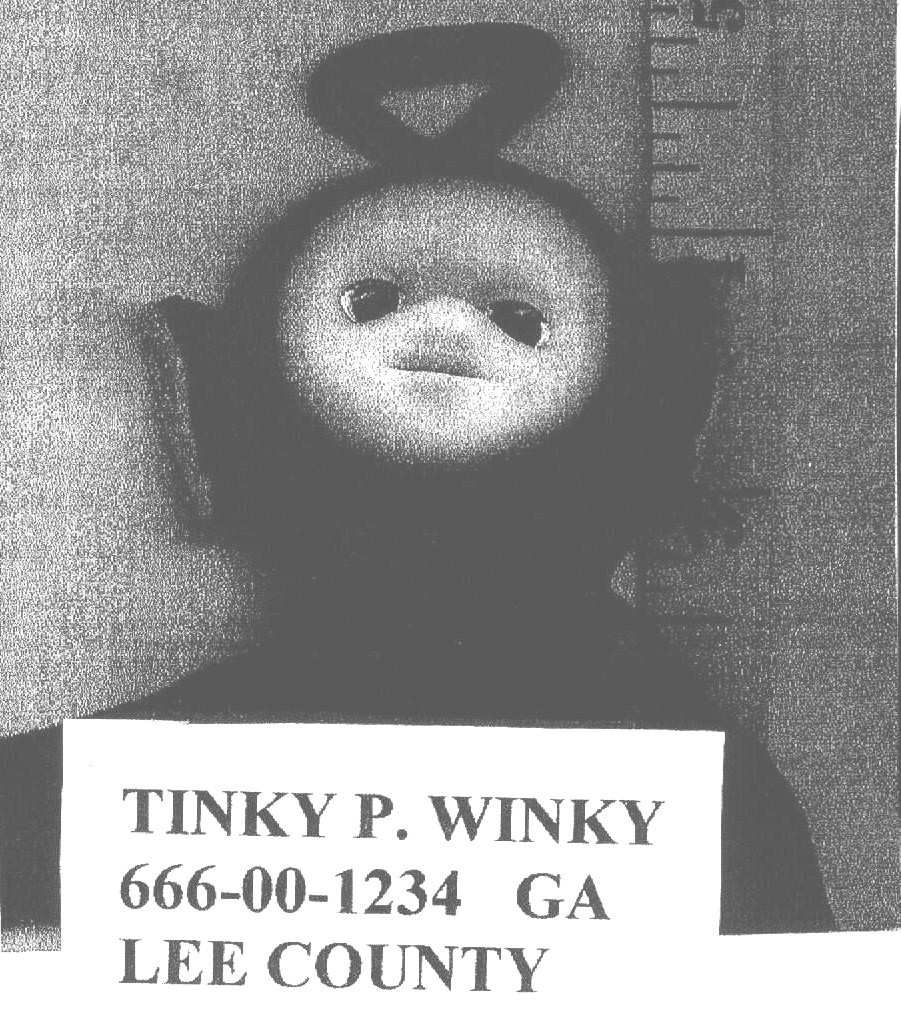 That purple and loveably questionable Teletubby Tinky Winky was arrested Saturday, July 20, 2002. Lee County Georgia police apprehended the effiminate chubby Tubby shortly after he snatched the purse of Mrs. Marvina Etchison. Upon pushing the purple pursuant to the sidewalk outside of a nearby convenience store, the police read him his rights. The triangle-topped television star was bewildered to learn that police officers watched the entire event transpire before their eyes. "Magic purse...magic purse," the TV Tubby repeated to interrogators in his famous high-pitched squeak after being booked at the station. Lawmen just grinned and shook their heads in disbelief as Tinky Winky tried to pass off the snatched purse as his own "magic purse" as seen on the well-known children's television show "The Teletubbies."
"What the hell you doin' with a purse anyway, boy?" drawled one Georgia officer. "Or ARE you a boy?" the lawman questioned as he requested a background check be done on the early-morning TV creature. The computer inquiry resulted in a rap sheet over 3 feet long. Included within the background check was the following:
inciting a riot during the Gay Olympics
writing threatening letters to Jerry Falwell
signing autographs for children as "Kinky Twinky"
stealing cable TV reception through his navel
stalking Donny Osmond
When questioned about the stalking incident, Mr. Winky responded "purple socks shiny..." A federal law enforcement official explained that the alias "Kinky Twinky" was a jailhouse nickname given to Mr. Winky by his cellmate boyfriend when he was incarcerated at the "Big Mack" McAllister Prison in McAllister, Oklahoma.
Tinky Winky will be held by FBI investigators for questioning regarding the events of September 11 and any connections to known terrorists. Federal officials claim that Tinky fits the same profile as Bert of Sesame Street who has proven connections to Osama bin Laden.
CLICK THIS LINK FOR THE BERT-BIN LADEN CONNECTION.