Yes, this is ONE alien! He is known to change form by "morphing" from a reptoid (from Zeta Reticuli) to a more lovable muptoid (from Zeta Berticuli).

This is the alien who is believed to be responsible for the disappearances of many of the USA's UFO spies. His name is Bipto. Bipto is known as a captain of a UFO fleet. He is considered armed (three arms) and dangerous. If you know of the whereabouts of this creature, let us know.

If you have the proper weapon (one BIG shoe), we suggest that you smash all three-armed entities resembling Bert from Sesame Street.

If you see this entity with another muptoid whom he refers to as "Ernie," it would probably be best not to smash him. LET US DO IT!

UPDATE!! The Bert alien has been seen in the company of Osama bin Laden! Keep your guard up against the terrorist alien powers unleashed on Earth recently. The picture below is more proof that BERT IS EVIL and that there are ALIEN TERRORISTS out there!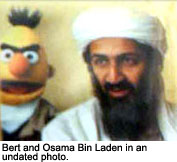 Read more on FIGHTING ALIEN TERRORISM HERE!
JULY 2003 UPDATE! The evil Bert alien and other of his fold morph into their favorite Sesame Street characters to wreak more havoc through terrorism!